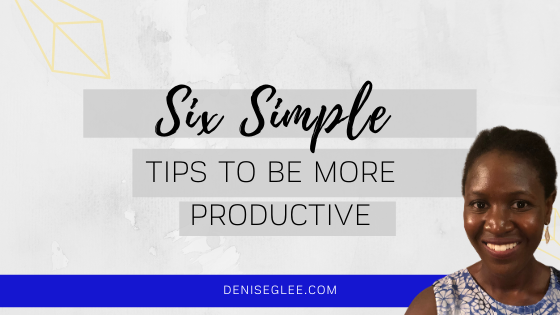 Six Simple Tips To Be More Productive
Now more than ever we need to be more productive with our time and energy. Here are six simple tips to more productive. These tips can be used in your professional as well as personal life.
Ask yourself, "can I do better?"
Always strive to look at how you can optimize your efficiency. I used to write my articles from scratch. I spent numerous hours thinking about which words or examples to include. I realized that it was much easier to write out an outline first and then complete the draft at a later time.
Organize your electronic and physical workspace.
Do you have a messy workstation in your office? This is where you have books and papers scattered everywhere. Are you spending way more time than is necessary looking for items on your computer?
Here are some practical solutions:
Mark a time in your calendar and make sure that (physical and electronic) files are placed in folders and eliminate unnecessary clutter. I suggest dedicating 30 minutes once a week to organize and clean up clutter. Make this part of your administration day.
Make sure you organize files by subject or topic rather than by date. This makes things much easier to search for later.
Eliminate excess electronic files. If you find your computer is running slow you might need to clear your cache or empty out your trash bin. In addition, maintain a computer backup schedule so that you do not lose your files.
Identify your priorities (for the day, week and month).
Make sure your calendar reflects the items that must take precedence. One suggestion is to add colored flags on your physical or electronic calendar. Identify the urgent from the important items.
Need Help Being More Organized?
Download my Confused to Confident Workbook!
Click Here
Make your meetings meaningful.
Do not have a meeting for the sake of having a meeting. There are many otherways to update your staff on status updates. You can create an online status board or use software that keeps everyone informed of crucial updates.
Minimize your time with negative thinking at work.
Life is not perfect and neither is work. It is okay to vent occasionally, but do not let yourself or others to constantly view things negatively. Negative thoughts stiflecreativity. Make sure you always think about how to solve your problems.

Maximize your morning routine.
Are you a morning person? I have the most energy in the start of the day. This is also when I am able to be most productive. Do not waste this moment either. Refer to your priorities and make sure you tackle those things before you do anything else. Even if you are a night owl, you can still make sure you pre-plan in advance the things you want to accomplish for your workday.
Did I forget to include another organizational strategy? Please let me know your thoughts in the comment section below.
Need Help Being More Organized?
Download my Confused to Confident Workbook!
Click Here