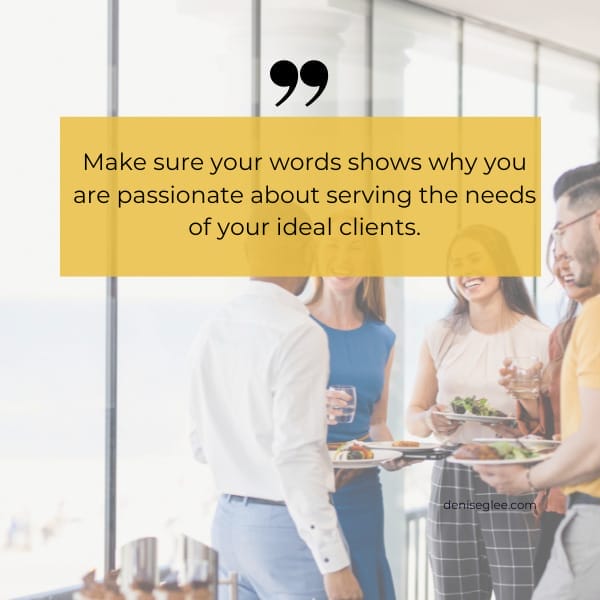 6 Networking Tips You Need to Know
When it comes to expanding and growing your business, it is essential to master the art of networking. Here are 6 professional business networking tips you need to know.
1. Have NO expectations when going to a networking event.
None. The moment you set yourself up thinking to expect this or that – trust me, you will not get nothing. Well, I take that back -I promise you will feel resentment and frustration when you expect any results.
If you are feeling nervous or anxious when meeting strangers, listen to my podcast episode and get tips on removing your fear of event networking.
2. Polish up your elevator speech.
When someone says, "what do you do?" Your answer needs to be succinct and straight to the point. Also, make sure your words shows why you are passionate about serving the needs of your ideal clients.
Here are some questions that your elevator pitch should answer:
What do you do? (I help business owners succeed with accountability, support and guidance)
Who do you help? (My target audience is service-based business owners)
How do you help others? (I provide my clients direct and specific guidance in addition to worksheets and others resources.)
3. Meet and greet everyone.
It does not matter if this person is not your ideal person. Remove any bias you may have and focus on getting to learn more about each person you meet. You are always within three degrees of separation from your ideal client.
4. Relationship first, sale second.
Get to know someone and ask questions about not just their business needs, but their personal life. People want to deal business with personable people, not sales robots.
Stop viewing people as walking sales targets. One of the best ways of building a relationship with someone is asking, "How can I help you today?" Keep an open mind and do not shut out others as possible network allies.
5. Listen carefully and take notes.
I don't know about you but I have a poor memory. I forget a lot of little details. One of the successful business networking tips and things that has helped me is to record a little information about each person I meet.
Use the notes function in your cell phone or a CRM (customer relations management) tool to write down information. Salesforce and HubSpot have awesome CRM apps you can download directly to your phone. A CRM is one of many essential tools 13 Awesome Tools You Will Need For Your Business. you will need to grow your business.
6. Followup after the meeting
Don't just take a business card, call them or email them. Ask to setup a time to meetup with them again. Don't assume they will call you – people are busy. Make an effort to meet them at a mutually convenient location (and that includes a video conference call).
I hope this article about successful event networking tips was helpful.
Do you have a suggestion that I missed? I would love to read it in the comment section below.
Final thoughts on business networking
Meeting new people at networking events can be scary and exciting all the same time. But if you find yourself avoiding things that will help you grow emotionally and professional, let's work together to eliminate your fears.