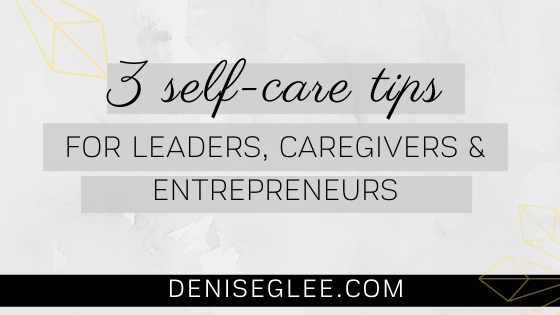 3 Self-Care Tips for Leaders, Caregivers and Entrepreneurs
As a life empowerment specialist and mental health advocate, it is PRETTY hard to get caretakers, health care workers or anyone in a leadership position to get assistance. And let me tell you three reasons why it is hard to receive help and self-care.
One must admit they need assistance. Which is pretty hard if you spend your days being looked as a problem solving, do-it-all with no frustration, miracle worker.
Self care means that you are showing your vulnerability to the world. Why share your weak or poor areas with someone who may hurt or harm you?
Admit that perhaps one or many parts of your life must shift or change. I cannot tell you how many licensed clinical social workers and therapists I knew who had an active addiction issue or their life was totally unhinged and unbalanced.
We have worked so hard to be the support for others that somewhere along the way we have forgotten to receive emotional, physical and spiritual support. Self-care is vital for leaders like yourself because we need to have a high level of emotional maturity to deal with our next challenges.


Now is the time to banish this idea that you must not ask or receive help. The best leaders are those who can communicate their needs to others and more importantly, to themselves.
The following three self-care tips below will help you as a leader, caregiver or entrepreneur.  These ideas will help you receive healing and rejuvenation from multiple sources and from different focus points.

Physical Care. Seeing my doctor, massage therapist, walking around my neighborhood, eating nourishing meals, taking a warm bath, not overpacking my schedule or resting as needed.
Emotional/Spiritual Care. Praying, reading a fun book, taking breaks, avoiding irritating conversations, talking with a good friend.
There is NO one source to resolve problems. As much as we want to, we may not be sufficient alone to help resolve my needs.
Caregivers, mental health advocates must be able to be flexible to adjust and adapt when they feel moments of mental and/or physical stress.
What has helped me is being more attuned to when I feel HUNGRY, ANGRY, LONLEY or TIRED or HALT. When I experience one or more HALT feelings, there is a biological, psychological or mental need that must be addressed. 
After I recognize something is off, the first thing I ask myself is:
Why is there something off with me? Do I need to take a nap, get something to eat?

 

Can I remove myself from the environment?
Who is most appropriate to help me in this situation?

 

How can I work to minimize or avoid future problems?
Working those four tips have helped me immensely. And it helps also to know that even caregivers need care from time to time. 
Do you have a tip on giving yourself care? Let me know in the comment section below.