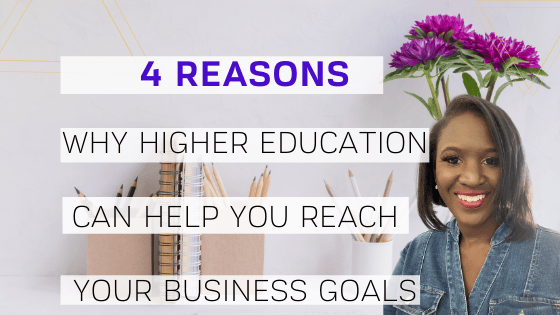 Why More Education is Essential for Success as a Business Owner
If you're a small business owner or entrepreneur who is wondering whether or not going back to school could contribute to your success, yes – it is a great idea to go back to school and get a degree.
Furthering your education and degree can do wonders for your small business, whether you're hoping to start a new one or grow your current one being an owner. In this article, we will discuss four reasons why a college degree can boost your business.
Not only is college now more accessible than ever before, but pursuing (and earning) a degree is a great way to 
Acquire new skills
Stay relevant in your industry
Strengthen your network of professionals 
Below, we'll discuss these benefits in more detail. And also provide you with a few tips for how to succeed at school-from choosing the right degree to working with a life coach like Denise Lee. 
Is it hard to get a college degree for an entrepreneur while growing a business? 
Getting an education and degree for a small business owner is really flexible nowadays. Not only are there more affordable options, but there are ways to learn that will fit any kind of schedule. For example, enrolling in an online college will allow you to do much of your studying on your own time as long as you can meet certain deadlines. 
Okay, I need to get a degree. Where should I start?
To make the most of your experience, however, be sure to carefully choose a degree that will help move your business dreams forward. 
To develop your business acumen and increase your knowledge in leadership and self-assessment, consider pursuing a master's degree in business administration. Attending webinars, workshops, conferences, and trade shows are other cost-effective and flexible options for furthering your education.
No matter how long or hard you have worked to learn your craft, there's always more you can learn and know. Going back to school can be an opportunity to fill certain gaps in your knowledge and skills that otherwise may remain void. 
Take time to thoroughly evaluate your strengths and weaknesses to determine how you could most effectively expand your skillset; you might be surprised by how useful the right degree can prove to be in your career. 
What kind of degree do I need?
Many small business owners and entrepreneurs find that studying business management and leadership degree, economics, and/or sales and marketing does wonders for the overall success of their business. After all, while it's essential to work on a team with people who know certain areas better than you, it's also important to maintain a broad range of knowledge and skills when running a business.
Most, if not all, industries go through constant changes these days. Markets are fast-paced and seemingly ever-evolving, which means that it's critical to keep your business up to date with the latest technology, tools, operational methods, and so on. 
Returning to school is a great way to accomplish this. And it can also teach you how to discern changes in the future so that your company doesn't get left behind.
I need support. Where should I go?
Few things are more helpful to a small business than having a strong network of professionals supporting you. And going through business school or a similar type of graduate program is one of the most effective ways to build a network of individuals and organizations you can trust and work with long-term. 
Prioritize developing relationships with your mentors, teachers, classmates, and other people in the community. You never know when you might need them. And of course, consider working with an experienced business and life coach like Denise Lee to help you navigate challenges well after you finish school.
Going back to school is perhaps one of the best things you could do for the long-term success of your business. It's accessible, and it can help you to significantly grow your skillset. 
Obtaining more education like a college degree will help you to stay up to speed in a rapidly changing world. And it also helps you to provide ample opportunities to build a strong network of professionals with whom you can work through the duration of your career. In other words, every business owner should seriously consider returning to school in this day and age.
Amy Collett from Bizwell helps women improve their branding and image. Send her a message or visit Bizwell for tools to grow your business.
Need More Confidence? 
Do not hesitate to contact me if you need more help. Also, get my FREE Confidence Boosting Guide.